Fellas welcome to Day 2.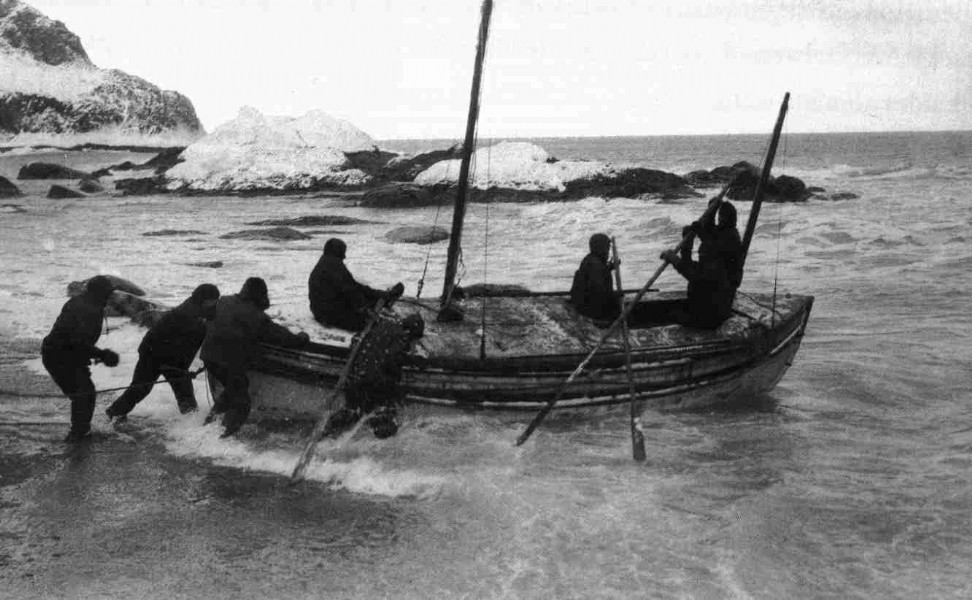 On December 29, 1913, Ernest Shackleton took out a small ad in the London Times trying to recruit men for his expedition to the South Pole. The words in the ad simply said "Men wanted for hazardous journey. Low wages, bitter cold, long hours of complete darkness. Safe return doubtful. Honor and recognition in event of success." In speaking of it afterwards, he said that so overwhelming was the response to his appeal that it seemed as though all of the men of Great Britain were determined to accompany him.
Deep down as men, we are wired for adventure. In the early days of Ironman Outdoors, we once did a shrimping retreat the Saint Helena Sound near Edisto Beach, SC. A hurricane literally was sitting off the coast of South Carolina and churning up a small craft advisory. For 5 or 6 hours we got our butts whipped by the current, winds, and waves. Was it safe, absolutely not. Did we catch shrimp? Yes! Did we enjoy it! Well let me put it to you like this, we returned back to the beach house at about 5pm and had our dinner and manhood discussion... and then about 9pm... we went back out to shrimp some more!
Yesterday we made sure that we have an accurate understanding of God, based on the Bible. Today let's focus on the mission that He has called you to.
Matthew 4:18-22
As Jesus was walking beside the Sea of Galilee, he saw two brothers, Simon called Peter and his brother Andrew. They were casting a net into the lake, for they were fishermen. 19 "Come, follow me," Jesus said, "and I will make you fishers of men." 20 At once they left their nets and followed him.
21 Going on from there, he saw two other brothers, James son of Zebedee and his brother John. They were in a boat with their father Zebedee, preparing their nets. Jesus called them, 22 and immediately they left the boat and their father and followed him.
With our children, we often say that delayed obedience is the same thing as disobedience. With the disciples, there was no delay. Jesus called them and they dropped what they were doing.
God is calling you to do something as well. The question is: are we even listening?
Ephesians 4:11 tells us that God gave different gifts to different men.
So Christ himself gave the apostles, the prophets, the evangelists, the pastors and teachers, 12 to equip his people for works of service, so that the body of Christ may be built up 13 until we all reach unity in the faith and in the knowledge of the Son of God and become mature, attaining to the whole measure of the fullness of Christ.
I can't play a guitar like Brad Paisley (in fact, not many folks can). And I cannot preach like Rick Warren either. But God uniquely equipped me in a strange way to put on hunting and fishing retreats that hopefully will impact a man's life. I'm trying to do what God has called me to do. And guess what, it's easy, it's in my wheelhouse. We have done over 700 men's retreats.
So each of us have a gift that we are use to build up the "body of Christ" which is the Church with a Capital "C." Some guys love to sign and honor God by standing on stage and leading in worship. Other guys can cook a piece of pork that will make your mouth water, and they do it for the church. And some Ironman guys even come on chainsaw trips with us after tornadoes and use their equipment and strength to help folks after a storm. All of these are examples of guys using their gifts for the Kingdom.
God is not calling you to do everything. But he is calling you to do something. Being "All In" is gonna require you to figure out what your gifts are and use them for the Kingdom. And by the way, when our kids were little we let them try every sport that they wanted to play (even soccer). But the idea is we want them to experiment until they find what they are good at. The same holds true for you and I. Get off the sidelines and get in the game. Stand up and volunteer for something dangerous. The adventure that God is calling you to is more extreme and more dangerous than anything you (or Ernest Shackleton) could have come up with. In 2016 Clemson was playing Alabama for the College Football National Championship. Thanks to ESPN, I distinctly remember the words that Coach Dabo Swinney said to his players before they took the field that night... "you were built for this." And when it comes to what God is calling you to do... you quite literally were built for this.
Call to Action
Spend 5 minutes reading Ephesians chapter 4 and understanding how our gifts are used to help the body of Christ grow. Spend 5 minutes in prayer asking God to show you what he's calling you to do.
Be strong and courageous, stand firm in the faith, and have a great day.