Day 6: Life's High Wire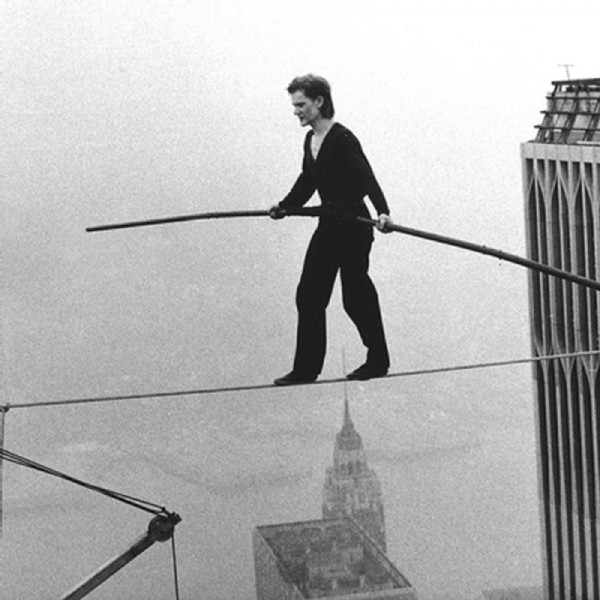 You may have heard the story of Philippe Petit, a French acrobat and high-wire artist. In the early 1970s, he heard about the construction of the twin towers of the World Trade Center in New York. When he saw a picture of their design, it was like he heard a voice calling him to do something startling and risky.
He built a model of the towers and dedicated himself to learning everything he could about the towers. He studied weather patterns and even hired a helicopter to show him the rooftops. After six years of planning, on August 7th, 1974, Petit and his friends secretly rode a freight elevator 104 stories up into the newly constructed twin towers of the World Trade Center. They shot a bow and arrow from one tower to the other with fishing line. Then they pulled a rope across, and then finally a cable. After stretching a ¾" metal cable across the 200 foot span between the towers, they worked hard to put 2500lbs of tension on the cable. Finally at 7am on the morning of August 7, 1974 Petit illegally stepped out for a high wire act like no other. With the winds blowing, Philippe Petit was 110 stories – a quarter of a mile – above the sidewalks of Manhattan. He wasn't just a daredevil trying to get across the wire so that he could make it into the Guinness Book of World Records. No, he was at home on the wire. By the time he got across the wire the arms of the police where waiting to arrest him. So what did he do, he turned back and walked the wire again. He walked the wire for 45 minutes, making eight crossings between the towers. He sat on the wire, gave knee salutes and, while lying on the wire, spoke with a gull circling above his head. After this spell-binding display, Petit was arrested, taken for psychological evaluation, and brought to jail before he was finally released. Because he had won the favor and adoration of New Yorkers, all charges were eventually dropped. His instant fame led to endorsement offers, book deals, and even Burger King offered to pay him $100,000 to dress up like a whopper and walk a high wire to open a new restaurant. He turned all of those deals down.
33 But seek ye first the kingdom of God, and his righteousness; and all these things shall be added unto you. Matthew 6:33
Truthfully, if you are like most men I know, we all feel like we are always walking a tight rope. We are constantly trying to balance work, family, hobbies, and relationships. It's easy to become distracted in this world but we must remain focused. What do we focus on? Well Phillippe was extremely good at focusing on one thing: the wire and his next step. In the same way, you and I must keep our focus and attention on God. We must seek first his Kingdom and not get distracted. Just like when Peter was walking on the water, if we take our eyes off Christ we will sink. If we are not focused on God in our marriage, in our families, and in our jobs, we will fail and the consequences can be severe.
Call to Action – think of one habit you can instill into your life that will help you focus more on God?
Be strong and courageous, stand firm in the faith, and have a great day.