Josh Kassinger Bio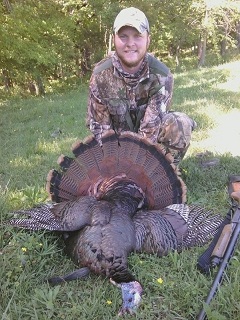 Occupation:
Supervisor at an airbag explosive plant
Family Members:
Amber(Wife), Brendan(Son), Bree(Daughter)
Hometown:
Hartford, KY
Favorite Outdoor Activities:
Bowhunting Whitetail Deer
Favorite Places to go:
Church, My sons' ball games, 20ft up in a tree stand.
All-time Outdoor Highlight:
Harvesting my first deer with my Dad.
Best Fishing Memory:
Watching my son catch his first fish (a little 4 inch bluegill).
Favorite Fishing Technique:
Soft plastic top water frog running over shallow vegetation.
Favorite Place to shop for Outdoor gear:
GanderMountain
Favorite Equipment (Guns, Boats, Reels, Tents, ATVs, Clothing, etc):
My bow and climbing stand.
Favorite Wild Game Food:
Marinated deer tenderloin, wrapped in bacon, and put on the grill.
Item in First Aid Kit you use most:
Band aids, because I can't seem to skin anything without cutting myself in the process.
Person most responsible for cultivating your love for the outdoors:
My Dadmostly. But also all my Uncles and Cousins who always went deer hunting in November with each other. I loved the fellowship they had every year with each other.
Favorite Scripture:
Matthew 20:28
Just as the Son of Man did not come to be served, but to serve, and to give his life as a ransom for many.
Any spiritual lessons you have learned on outdoor events:
In September of 2013 my wife and I lost our little girl Bree Elizabeth Kassinger, who was supposed to be born in November. A couple weeks later I was bowhunting one morning. I got to my stand really early as normal. I thought to myself that it was really dark, and that's how my life had felt due to our circumstance. I almost immediately felt God tell me that soon the darkness would be gone and the sun would be shining. God taught me in that moment, that no matter what happens in life, no matter how dark, or how difficult your circumstance is that it won't last forever. That He is faithful to bring hope and life to His children.