Perry Copeland Bio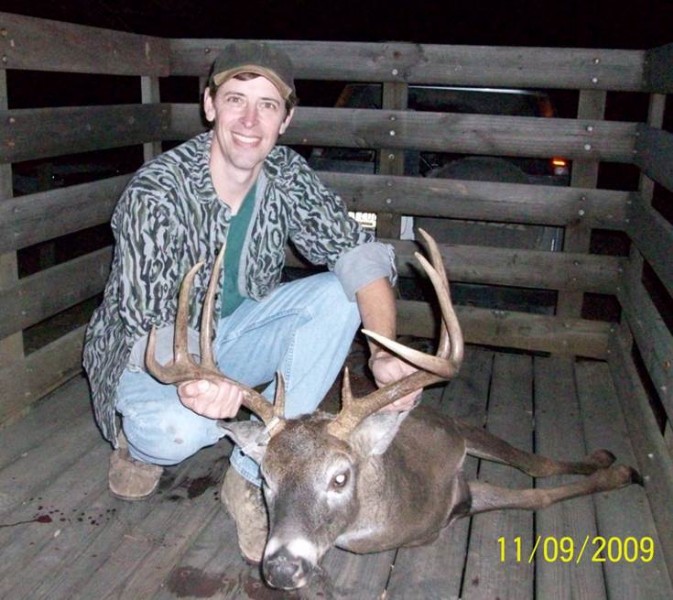 Occupation:
Rural Mail Carrier
Family Members:
Lynnette (Wife)
Mariah (Daughter)
Riley (Son)
Hometown:
Little Hocking, Ohio
Favorite Outdoor Activity:
Bow Hunting Whitetails
Favorite Places to go:
To The Woods, any woods
All Time Outdoor Highlight:
Being in the buddy stand with my children when they harvested their first deer. Priceless!!

Best Fishing Memory:
Catching a 7 �½ pound largemouth bass when I was 8yrs old, while fishing with my Grandma. I havenâ??t caught anything close to that size since.
Favorite Fishing Technique:
Walking the dog, top water fishing for bass.
Favorite Place to shop for Outdoor gear:
Cabelaâ??s
Favorite Equipment:
Mathews Switchback- bow season, TC Encore 50 cal.- deer gun season, Benelli Semi-auto -Spring Turkey

Favorite Wild Game Food:
Fried Wild Turkey Nuggets w/local honey and a close, very close 2nd, Deer Chops with Wild Oyster Mushrooms and Fried Apples. Just Awesome!!
Item in First Aid Kit you use most:
Advil
Person most responsible for cultivating your love for the outdoors:
Absolutely no doubt, it was my Dad. He took me squirrel hunting w/him when I was very young. He gave me my 1st gun, a single shot Remington 22 rifle, when I was 8yrs old. After a lot of practice and a few years to grow, at age 13, he allowed me to hunt squirrels with it by myself. Thanks be to God for Dad
Favorite Scripture: Hardest Question to answer by far
Ro 5:8 But God commendeth his love toward us, in that, while we were yet sinners, Christ died for us.
Spiritual lessons learned on outdoor events:
In the fall, I spend a lot of time by myself in a tree stand. During these alone times is when I realize the most that I live in the presence of God. Alone in a tree stand gives me opportunities away from the distractions of life to meditate on God, His word, His goodness, grace and mercy.