Who We Are
The History of Ironman Outdoors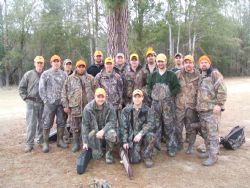 The idea for Ironman Outdoors is really the solution to a problem that we had in our Sunday School class at North Trenholm Baptist Church in Columbia, SC. Perhaps your class (or your church) is just like ours. For years we wondered why so many of the men in our church were so marginal in their attendance. Their wives would show up to church but the husbands were either absent or they had the "deer in the headlights" look during the sermon. We wondered how can we get these guys who are on the fringe to be more involved in church and ultimately more committed to God?
Then the lightbulb came on one day as several of us talked about our love for the outdoors. What if we took a Men's Retreat to go fishing for the weekend and invite these guys on the fringe to go with us? We're not talking about a weekend of just fishing. We experienced REAL and AUTHENTIC fellowship among men. Our conversations were more than just football and fishing stories - we talked about our struggles and what it truly means to be the spiritual leader in your home.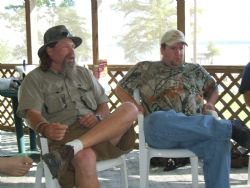 Well, the response was amazing! After that first trip, the men in our church were hungry for more. So in addition to Santee fishing, we also took up Shrimping Retreats, Hog Hunts, and Deer Hunts. With every retreat, we took time to carefully plan out the spiritual aspects of the weekend also. We line up top notch speakers who know how to "Speak the Language" of men! We also make sure that with every trip we include at least 4 or 5 men who don't know Christ.
Maybe we are just slow, but eventually we discovered that we could use our passion for the outdoors as a heavenly tool to share the message of God's forgiveness with other men. In fact, there's something about being in God's Great Outdoors that compels a man to think about spiritual things. Maybe it's got something to do with this verse....
"For since the creation of the world God's invisible qualities--his eternal power and divine nature--have been clearly seen, being understood from what has been made, so that men are without excuse." Romans 1:20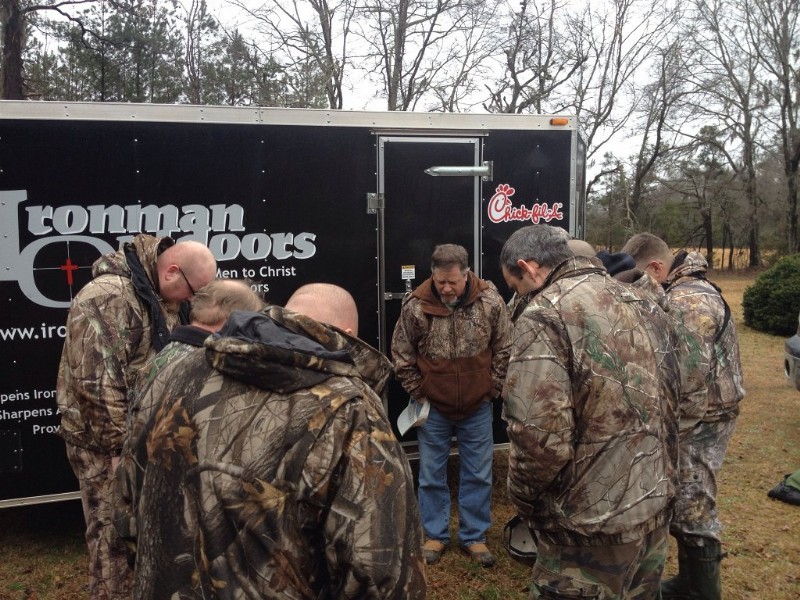 Ironman Outdoors is all about connecting men to Christ in the outdoors. We provide the "iron sharpening" atmosphere for men to focus on spiritual things. Not only will you get to fish and hunt in excellent areas, you will also get to see what it takes to stay sharp spiritually! The highlight of the weekend is our "manhood discussions." These are not Bible Studies and they are not worship services. A manhood discussion is a chance for men to authentically talk about what it means to be a Christian man....our struggles, our victories, and God's definition of a real man! Every manhood discussion also includes our personal story about the spiritual struggles we face and how God has equipped us. That transparency often spreads like wildfire through the group.
We feel strongly that God has given us a vision for how to reach men. Could it fail: yes. But as one author said "I would rather fail in a cause that will ultimately succeed than succeed in a cause that will ultimately fail."
Come along on one of our "Adventure Retreats" and you may be surprised at how God can work in your life and the men around you.
In April of 2007, many of the guys from Patrick's Sunday School class became the Board of Directors for Ironman Outdoor Ministries Inc. which is a 501(c)(3) non-profit ministry. We rely solely on charitable contributions and the fees generated from the Adventure Retreats to support this ministry. No salaries are paid and 100% of your donation goes directly to helping men connect with God. All donations are tax deductible and we will provide you with the appropriate documentation for the IRS. Please consider making a donation today to support what God is doing through Ironman Outdoors.
You can mail donations to:
Ironman Outdoor Ministries Inc.
2331 Muller Road
Blythewood,SC 29016
For more information, contact Patrick Tyndall - patrick@ironmanoutdoors.org or 803-465-1981.