Ray Thomas bio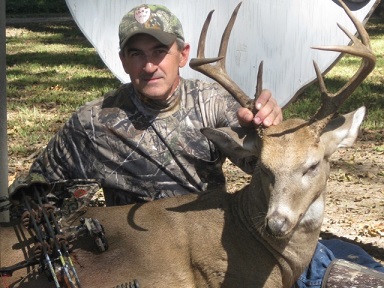 Millwright

Family Members:
Dana (wife)
Jessica (daughter)
Hometown:
Bogalusa, La.
Favorite Outdoor Activity:
Bowhunting
Favorite Places to go:
Pike Co. Illinois

All-time Outdoor Highlight:
Being with both my daughter and son when they harvested their first whitetail.

Best Hunting Memory:
Sitting across a hundred acre cut soybean field from my 14 year old son ,in Pike Co. Illinois,watching a dozen whitetail filter out into the field in front of him. Counting again and only counting eleven. Rushing to meet him and retrieve a huge doe.

Favorite HuntingTechnique:
Still hunting from hang on stands near food sources.


Favorite Place to shop for Outdoor gear:
Everyday Hunter, LLC

Favorite Equipment (Guns, Boats, Reels, Tents, Atvs, Clothing, etc...):
My Mathews Chill

Favorite Wild Game Food:
Deep fried backstrap

Item in First Aid Kit you use most:
Tylenol

Person most responsible for cultivating your love for the outdoors:
My dad instilled in me at an early age the love of hunting and fishing. I've passed this on to my children and look forward to doing so with their children one day as well.

Favorite Scripture:
Now Faith is the substance of things hoped for and the evidence of things not seen. Heb. 11:1

Any spiritual lessons you have learned on outdoor events:
God has allowed me many opportunities to take children and youth hunting. During these times I have been able to share God's great outdoors with them and also pray with them giving thanks for it.